PRIDCORP
http://pridcorp.com
Preferred Regional Independent Distributors Corporation (PRIDCORP) is a network of independent owner/operator direct-to-store (DSD) food distributors in Atlantic Canada, Ontario, Western Canada, Yukon and Northwest Territories.
Forty three shareholders currently operate 127 trucks in 9 provinces and 3 territories generating over $88 million in sales annually. As shareholders of PRIDCORP, independently owner/operator businesses benefit from increased buying power, preferred corporate supplier status, access to national brand name products, representation at trade shows, volume marketing, new distribution opportunities and geographical territory protection.
PRIDCORP needed a way to maintain and distribute their company information, both to the public and to their shareholders. The solution was to develop a public/private solution where they can login and update information easily, as well as control access to private and sensitive data.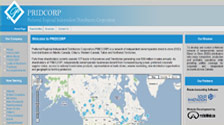 Tools Used: Photoshop, AJAX, Google Maps API, PHP, MySQL, Javacript, DHTML, search engine optimization and submission, website hosting.