Paul Pitzel - Fullshot.ca
http://www.fullshot.ca
Paul Pitzel is a film and television editor and cinematographer in Vancouver, BC.
Paul is well established in the film world, and has worked on some very high profile projects such as X-Files, Outer Limits, Highlander the Television Series, Batman & Robin, and much more.
This website is very simple, but incorporates Paul's portfolio and credits, resume, bio and contact info.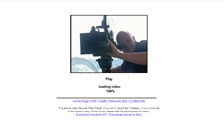 Tools Used: HTML, CSS, Flash, ActionScript, Video Editing